One of the most popular types of cabinet out there today is the shaker cabinet, which has a signature look with a five-piece design and a recessed center panel. Shaker cabinets come with numerous design options and are extremely versatile, working in both modern and traditional settings and with a variety of surrounding aesthetics.
At AWA Kitchen Cabinets, shaker style cabinets are just some of the fantastic kitchen cabinet products we carry, which include a wide array of base cabinets, utility cabinets, wall cabinets, and many others. One of the most common questions we get from clients considering shaker style cabinets: What are the best hardware materials to go along with the cabinet, and how should these be placed? This two-part blog will begin with some of the ideal materials and formats we recommend here, while part two will look into placement formats for several pieces of cabinet hardware.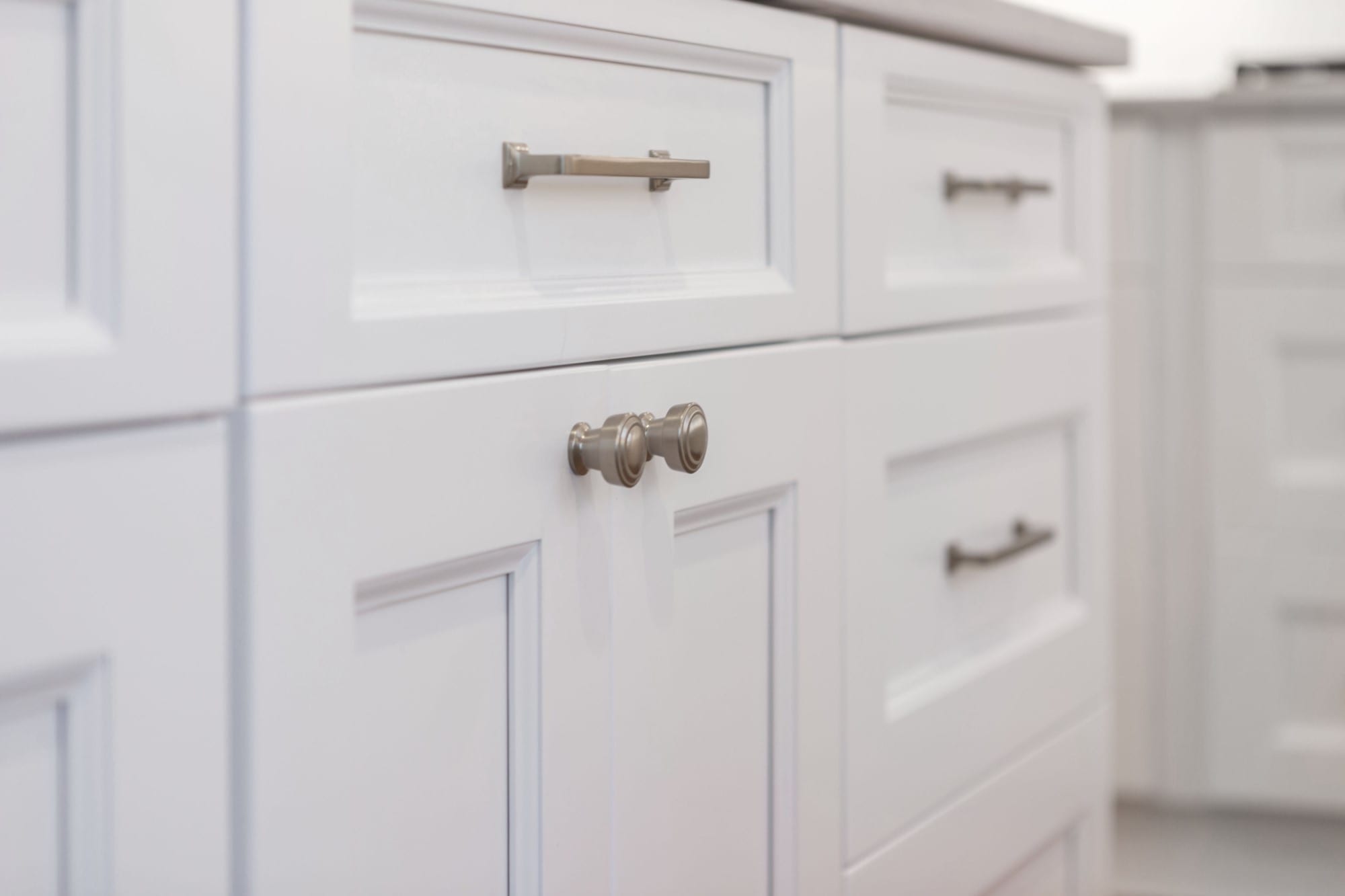 Nickel or Steel
For those who want a traditional look to their cabinets, a clean and smooth aesthetic that lends itself to numerous contrasts, some of the best hardware material options will be nickel or steel. Used for knobs and pulls, these options are perfect for cabinetry topped with a wide variety of countertop options, plus are very low-maintenance and complement both modern and vintage looks. For those going for a vintage look, you can combine steel or nickel knobs with bin or cup pulls on your drawers, bringing a combination of warmth and flair.
Ceramic or Glass Knobs
For those looking for a classic finish on their shaker cabinets, a strong consideration may be ceramic or glass knobs. These originated in the early 19th century, and are especially ideal for shaker cabinets with a stained finish that showcases their wood features.
These materials complement classic wood finishes, plus are available in several color hues. They can be clear, opaque, or fully transparent, and can be used for both doors and drawers.
Pull Formats
Finally, there are several bar pull formats to think about:
Classic: Hardware options featuring exposed screws and available in options like antique brass, oil rubbed bronze, or nickel. These are best for farmhouse, utilitarian or industrial styles.
Tubular: Stainless steel or nickel formats for a modern look, also called the barrel pull.
Wire: Often accompanied by various decorative features or accented wire pulls, these are more traditional options and often feature ornaments.
Flat bar: Similar to tubular pulls, but available in longer lengths.
For more on the various materials and styles available for shaker cabinet hardware, or to learn about any of our kitchen cabinets or other kitchen materials, speak to the staff at AWA Kitchen Cabinets today.